TMA-011
The TMA-011 is designed for the detection of pedestrians and cyclists. Its distance of detection is adjustable and can reach 30 m.
It adapts the duration of the pedestrian green to the flow on the on-crossing. It can also wake up a standby light or call a green phase for cyclists, without them having to step down to press the call button.
Compact and lightweight, it can be installed quickly, without civil engineering works or traffic stops.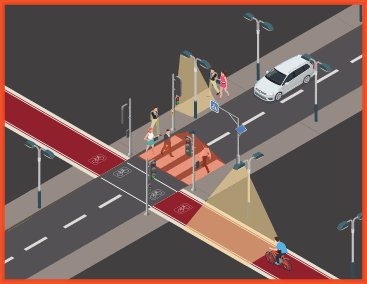 The TMA-011 closes or opens a dry contact when it detects an object moving at a speed greater than 0.5 km/h. This contact can communicate with a traffic light controller, light poles, LED panels, etc.
Pedestrian and cyclist detection
Range: adjustable (8, 12, 16 or 30 m)
Choice of power supply:

100-240 V AC
15-54 V AC/21-75 V DC
10-30 V AC/12-60 V DC

Uni- or bi-directional
Settings without opening the housing
Self-monitoring feature
Comfort of installation and use:

Above-ground installation
Works in all weathers
Maintenance-free
Trustworthy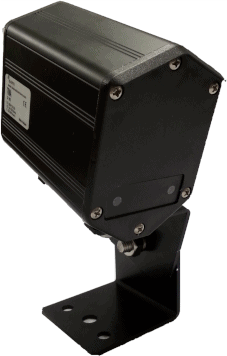 Range (radar installed at a height of 4.5 m, angle of 5°)
adjustable (8, 12, 16 or 30 m)

Min. detectable speed
0.5 km/h
Detection direction
incoming, outgoing or bidirectional
Detectable speeds
from 0.5 to 100 km/h
Unit size
68x99x119 mm
220V Power Supply size
68x99x168 mm

Weight (excluding cable and mount)
from 0.35 kg to 0.48 kg, according to version

Protection level
IP65, EN 50102 (IK)
Mount system
double-L (included), adapted for M8 screws
Operating temperature range
from -40 °C to +60 °C
Power supply

L version : 10-30 V AC/12-60 V DC

M version : 15-54 V AC/21-75 V DC


H version : 110-220 V AC

Power consumption
< 1,2 W @ 12 or 24 V DC
Frequency
K-band – 24.125 GHz
User output
LED visible on the front panel – Changeover relay contact
Response time
< 500 ms
Relay holding time
750 ms

Extension of the green phase for pedestrians during the crossing
Green phase call on cycle path
Lighting of a pedestrian tunnel only when a user is present
Activation of signs warning motorists of the presence of cyclists or pedestrians in the vicinity
Activation of station and parking platform lighting when pedestrians arrive
Activation of public lighting on motion detection