Icoms Detections developped an API for Bordeaux Métropole, to publish the I-SAFE speed warning signs data as Open Data
In the context of increasing concern about road safety, Bordeaux Métropole (a French public authority) has taken steps to improve its knowledge of traffic flows by installing I-SAFE 2 radar speed display signs. By publishing data from the radar signs the authority increases transparency and helps meet the nation's commitment to Open Data.
Collecting and Analyzing Vehicle Speed Data
Bordeaux Métropole has been a long-time user of I-SAFE radar speed signs for traffic calming. The authority recently acquired additional new I-SAFE 2 radar speed display signs and installed them at critical points in its territory to make motorists aware of their excessive speed. The effectiveness of these devices no longer needs to be proven in the context of actions aimed at increasing road safety. While the primary purpose of these devices is to display the speed of vehicles approaching them, they also store the measured vehicles' speeds. This information is valuable in the analysis of the "speeding" behavior of motorists.
Connecting Radar Speed Signs to the Open Data Network
Two features have been added to the I-SAFE signs to facilitate the collection, transfer, and publication of speed data. Firstly, the I-SAFE signs have been equipped with 3G modems to send the data files at regular intervals to the Icoms Detections server. Secondly, an API developed by Icoms Detections in close collaboration with Bordeaux Métropole allows the public authority to automatically extract data from the signs to populate its data warehouses and publish the data on its Open Data platform.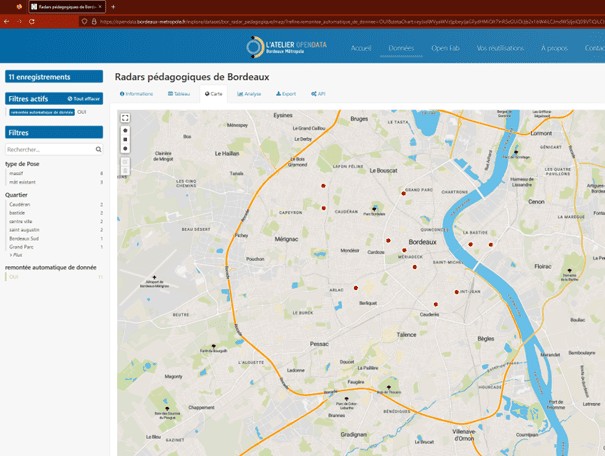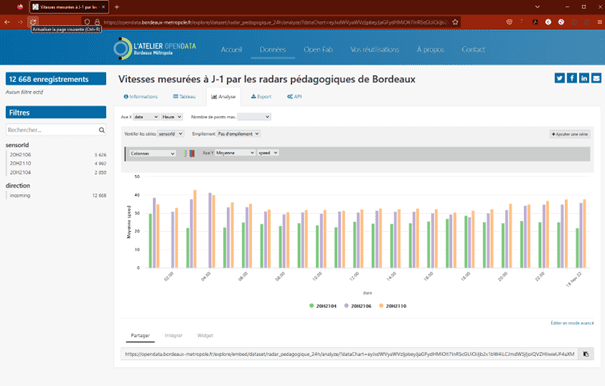 The information collected includes the speed, direction of travel, and time of passage of vehicles. It is thus straightforward to identify peak hours or times when the speed is highest. The comparisons are easy, and users can immediately see a picture of how traffic is responding.
The metrics Bordeaux Métropole makes available in open data are, hourly:
Average/Minimum/Maximum speed
Standard deviation (speed)
Percentile (speed)
Volume
Meeting a Government Commitment to Open Data
France is one of the countries leading the way in opening up public data, having passed the Digital Republic act in 2016. The country ranks as one of the top five in the world for open data, scoring highly for government action. Publishing public data has the ultimate objective of helping to innovate and create new services in the interest of all (https://opendata.bordeaux-metropole.fr/pages/reutilisation/). Mobility data such as those reported by behavior-modifying radar speed signs are useful in more ways than one, both for citizens and for developers of third-party applications.
Bordeaux Métropole and Icoms Detections worked closely together to develop this solution, which is perfectly in line with their mutual desire to promote Smart City solutions.